Yacht   "IMAGE"
Leisure 27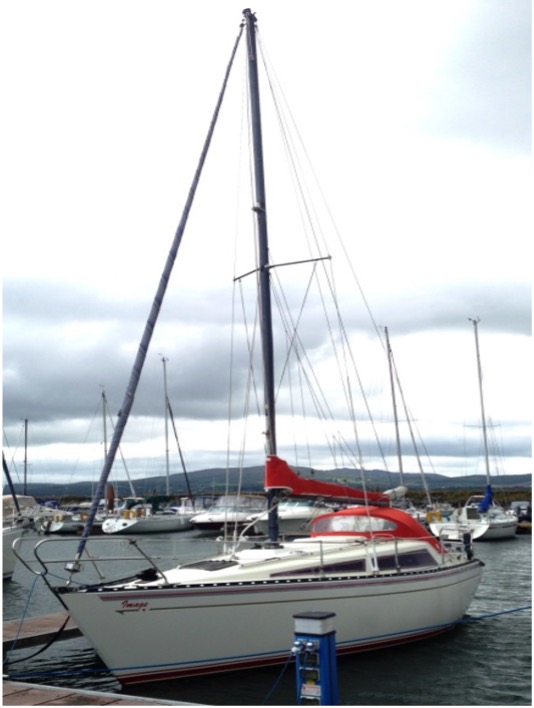 Lying Lough Swilly Marina Fahan Co Donegal. 
Image is a Leisure 27 yacht, built in 1979. She is a sturdily constructed family cruiser. I have used it mainly for day sailing and she was raced by previous owner.
Due to a variety of reasons, particularly age, mobility problems and difficulty getting crew, I am somewhat reluctantly considering selling her this year.
Before putting it on the market, I would be keen to offer it locally to any member of the club (or local person interested in sailing) who might be interested in acquiring an entry level yacht. I would be prepared to consider an offer that would be affordable to an interested party.
It's a good seagoing boat. There is spacious accommodation with 6ft headroom throughout. Between the main saloon and fore cabin she can sleep 6 people in 5 berths. All sheets and control lines are led back to the cockpit and the yacht can be readily sailed by one helmsman with reasonable ease. It has a fully gimballed gas 2 ring cooker with grill and oven, a stainless steel galley sink with electrically pumped cold fresh water from two large capacity stainless steel water tanks. There is comfortable heads with full size toilet and washbasin. For marina use she is fully wired for shore power with adequate sockets well placed for many useful appliances.
The original engine is a Volvo penta MD7A twin cylinder 13.5hp diesel. It has been regularly maintained and with its 2 blade Gori folding pushes the boat at about 5 knots easily and quietly.
If you are interested, please contact me, without any obligation, on +44(0)7802 436582, or email me at egbrendan@gmail.com. I can provide you with more detailed information.