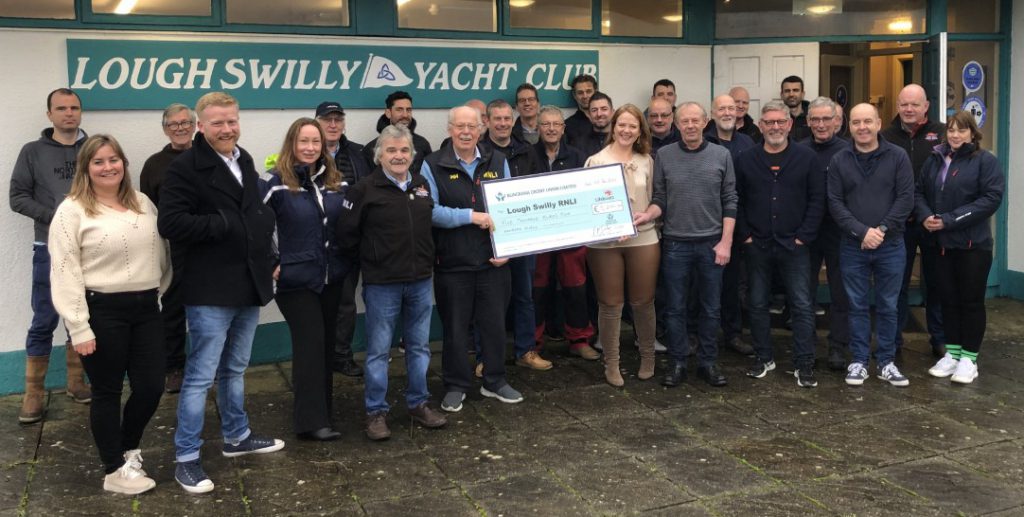 All,
We rounded our sailing year off in true style this weekend.  At what has now become our end of season event, the Christmas CROCS races, we had organised the presentation of the proceeds of our Annual Dinner Dance RNLI raffle.
The race was run in lively conditions on Saturday with a fantastic turnout of boats for this time of year, all of whom contributed to the atmosphere.
After racing we had a visit by John McCarter and a few of the crew of the lifeboat (Eunan and George).
John praised the generosity of the club, its members and their friends in such difficult times.  
It is astounding that in the times such as they are with a global pandemic that the members of the club were able to dig deep and contribute quite a sum of money for this great cause.  
John provided a few of the figures that relate to the funding requirements of the RNLI as a whole.  The figure of €160million is a sizable amount of money that they require to keep the boats afloat.  That €160m is all charitable contributions raised and donated by members of the public for a service we hope never to have to use but are thankful that they are there when required. 
Again thanks go to the organising team who brought such an idea to life.
Thanks again to all of those who participated on and off the water to make this a memorable year.
I hope you all have a very Merry Christmas and a peaceful New Year.  We will see you again in 2022!